CONTRIBUTION TO THE ENVIRONMENT
Contribution to the environment
"Contribution to society" and "Trust from society"
For us, harmony with the environment and harmony with society (regional communication) is one of management's top priorities.
Throughout the lifecycle from development and production of plastic products to supplying them to customers, our concept is:
■ "Contribution to society", supplying environmentally-friendly safe and secure products to society, and
■ "Trust from society" through honest management with thorough awareness of compliance
We are all proactive in addressing global warming prevention and environmental load reduction, and we aim to become a company that contributes to the sustainable development of society as a member of the Sekisui Chemical Group.

Environmentally friendly products
Friendly manufacturing, not for the "now", but for "the future"
The purpose of the company is to contribute to people and society by researching and developing new materials, and by continuing to make reliable products. But what underlies that is the existence of all living beings, the survival of our wonderful earth.
As consideration for the global environment becomes more and more indispensable as a low-carbon society, we are continuing to reduce CO2 in all processes, and actively tackle the global environment preservation as a leading plastics company.
Vegetable resin / CO2 reduction sheet

Products using recycled plastics

Recycled holder

Returnable exterior container

Forte
Production system
A production system by field with high expertise and consideration for the global environment
Faster and more accurate systems such as careful selection and procuring of raw materials, verification of production lines, and strict quality inspection by each section and final section, support the quality of our factory. In addition, we are facing a low-carbon society and have developed facilities and systems that are more environment-friendly.
Not only energy conservation and efficiency improvement, but also the environmental awareness of each employee is increasing due to "visualization" activities. Protect the beautiful earth and deliver reliable products - that's our motto.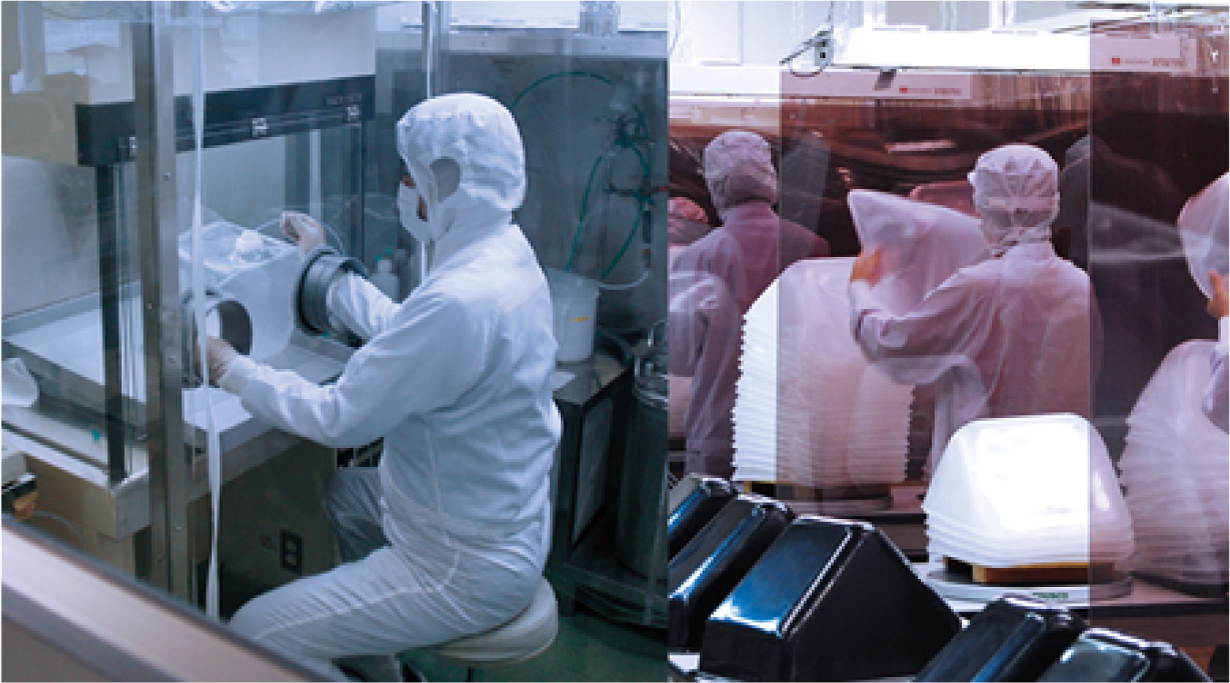 Social Contribution Activities
Be strict with yourself, but kind to others
Companies are also members of the society, and management that emphasizes the stakeholders that make up the society is important.
We are working on a variety of social contribution activities aiming for the development of local communities, and coexistence with local communities.
By participating in regional collaboration, we believe that each and every employee can nurture a volunteer mindset and live in harmony with the local community, which also leads to the company's further development.
[Shimane Prefecture / Lake Shinji Cleanup Activities]

Participation in the simultaneous cleaning of Lake Nakaumi and Lake Shinji which are Ramsar Convention registration sites. With the reality that our plastic waste is being disposed of, we felt keenly aware of the importance of corporate responsibility and environmental contribution, and strongly felt that we should continue our efforts even further.
We, Sekisui Seikei Co., Ltd., are therefore participating in various social contribution activities as a company.